Sussie Figueroa
A wise suggestion was given to me by our website designer to include a written description of Who I Am. Providing pictures of the wonderful couples I have worked with and explaining what Once Upon A Time Wedding Services has to offer, was the easiest task in designing our website. Writing about myself, was a different story. How many times in our lifetime do we get to talk about ourselves?
Initially I thought, "what am I going to say about myself that would be enough for my couples to know who I really am? What would they want to know? Then it occurred to me, how else would they know if I don't tell them?
So, I decided to put myself in your shoes. I too was a Bride-to-be and I too went through the process of planning a wedding. Knowing how cumbersome this task would be, I decided to hire a Day-of Coordinator and this was the second best decision I had made for my wedding. In case you ask what my first best decision was …. marrying my husband, of course.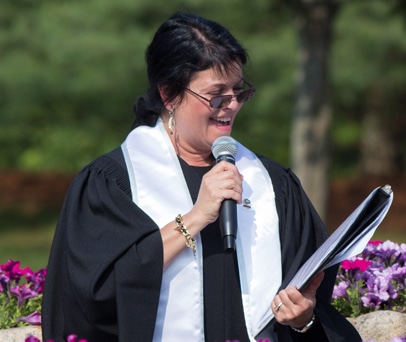 "If you asked me what I bring to the table and what makes me different, my first response would be: It is my passion, commitment, and impeccable dedication what drives me to be the best I can be for my couples"
Although I was born in Brooklyn, New York, I spent my whole life between Puerto Rico and Massachusetts, back and forth, every other year, and going to school in both places. In fact, growing up as a kid I thought everyone did that. That is how I became proficient in both languages Spanish and English. Living this lifestyle also gave me a broader perspective of both cultures, the spoken and the unspoken rules, the knowledge of the verbal and non-verbal cues when communicating and insight about people's preference of working styles.
My Puerto Rican parents instilled in me the importance of making meaningful connections with all kinds of people and their personalities. A valuable lesson it was and one I will always carry. This upbringing, culturally rich in traditions and family ties, encouraged me to meet and connect with people from all walks of life, young and old. I learned to treasure and value their differences and cherish what made each individual unique in their own special way.
I have great respect for family traditions, rituals and its culture. I understand how family dynamics play an intricate part in the couple's life during the planning stages. Sometimes problems develop but nobody has a deliberate intention to create conflict and I am very good about helping family members sort these out. I am there to manage those conflicts, to ease the tensions and stressors associated with wedding planning. I celebrate not only the couple but the whole family.
I have planned, directed and coordinated all types of weddings and a diversity of couples for over 11 years. I enjoyed it so much that I decided to go back to school after completing two masters degrees (Psychology and Education) and became a Certified Wedding Planner, (CWP). I was also appointed by the state of Massachusetts as Justice of the Peace. After that I got my credentials and became a Travel Agent. I figured I would be most effective and efficient if I handled all aspects of a wedding from beginning to end.
If you asked me what I bring to the table and what makes me different, my first response would be: It is my passion, commitment, and impeccable dedication what drives me to be the best I can be for my couples. When you hire Once Upon A Time Wedding Services you get Me, my experience, my down-to-earth, easy going personality, my problem-solving skills, uplifting energy, and full access when you need me.
Not enough words can describe how wonderful of a JP Sussie is. She is kind, professional, organized and very compassionate. Her ceremony was done beautifully and I couldn't have been happier. She performed a bilingual ceremony for my husband and I. My entire family raved about her and I would recommend her to anybody! Lauren + Ruben
I attended a friends wedding and she approached me about wedding services. Her care and her ability to use multiple languages and connect with everyone was extremely beneficial for my boyfriend and I future plans of marriage Bridget + Ryan
Sussie Figueroa is, quite simply, PHENOMENAL. We originally hired her as an officiant, but she was so amazing that I eventually asked her to also be our wedding planner and she (thankfully!!) agreed. I had long decided that we could not afford a wedding planner but I have to say that I would not have survived my wedding without Sussie and IT WAS WORTH EVERY PENNY AND MORE to have her as a planner. Rachel + Alberto
Want to check the availability of your date?
Contact Me
Once Upon A Time Wedding Services Inc.
Haverhill, MA 01830
(617) 224-2051
Email:  OUATimeWeddings@gmail.com
Phone: (617) 224-2051